Super Bowl Sunday is so close to being here! I'm sure if you are like me, you are already brainstorming your special game day menu (because that is part of what makes the Super Bowl so special)! Well, I'm here to tell you that you HAVE to add my Sweet Heat Bourbon Chicken Wings to your menu. Yes, you HAVE to because they are seriously THAT good and you shouldn't deprive yourself of these sticky, crispy, pieces of heaven. I'm almost positive the angels would sing once they bit into these wings. 😏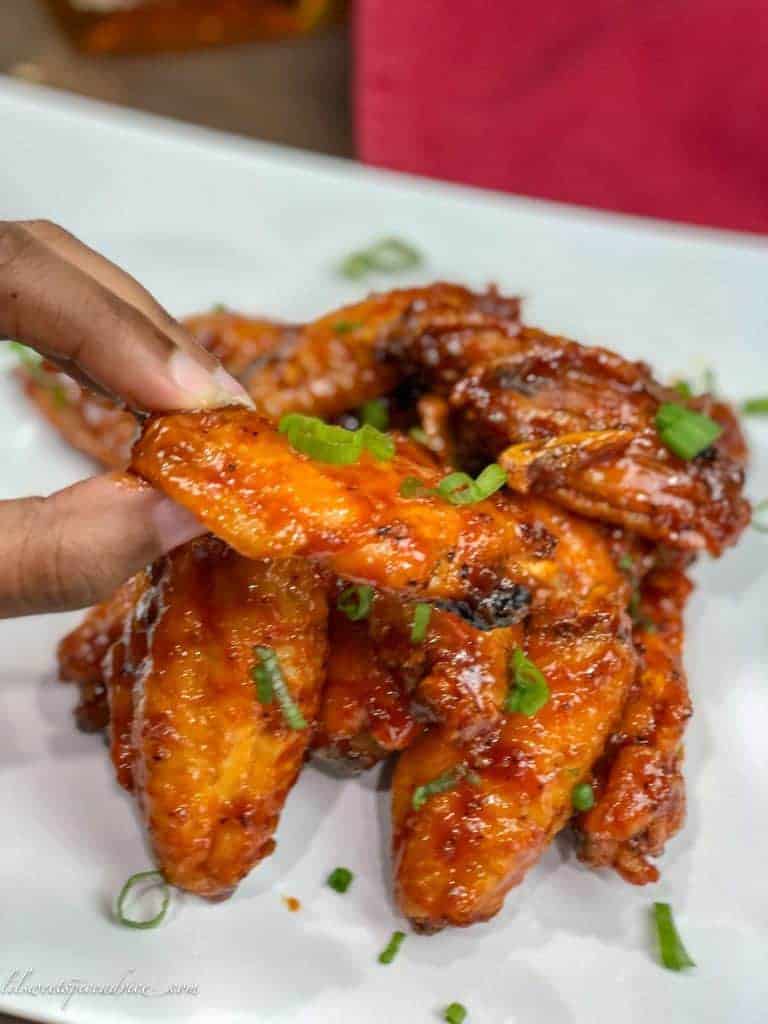 I say go ahead and make sure you have your staple buffalo wings on the table, but you should honestly have these Sweet Heat Bourbon Chicken Wings sitting right next to them. Pretty sure that they might outshine your buffalo wings though. We'll let your guests be the judge.
What makes these Sweet Heat Bourbon Chicken Wings so special is the gochujang-based sauce. If you are familiar with Korean food, specifically Korean fried chicken and bulgogi, then you've had the pleasure of savoring gochujang which is a fermented hot red pepper paste. To sweeten things up a bit I added some organic raw honey to the mix along with some bourbon, OF COURSE, and some tamari, rice wine vinegar, and a few spices. This sauce is not missing a thang in the flavor department! (Keep some napkins near you, or just lick your fingers. No one's judging! 🙃)
Oh, and if you are wondering where you can find gochujang most grocery stores will carry it in the International aisle or you could find the nearest Asian grocery store and purchase it there as well.
Now don't fret about cooking these Sweet Heat Bourbon Chicken Wings! You don't have to spend any time standing over a deep fryer to make these babies. We're baking them and I promise that they will come out as crispy as if you had fried them! The secret to making these wings crispy is baking powder. If you aren't familiar with what baking powder does to oven baked chicken, then read my previous post,Spicy Cherry Glazed Chicken Wings, where I discuss the technique and why it works.
So for Super Bowl Sunday all you have to do when you get up in the morning is pat dry the chicken wings, toss them in the seasoned baking powder mix and lay the chicken wings on a cooling/baking rack set on a baking sheet, then bake them. Then grab a saucepan and start whipping up the Sweet Heat Bourbon Glaze. Once the chicken wings have been removed from the oven, toss them in the sauce, then serve them on a platter! Easy, huh?
I don't want to see you guys freaking out on game day trying to feed your guests because it could all be so simple. With that being said, if you are up to making a few dishes for the Super Bowl then be on the lookout for my next few recipes. I'll be sharing another wing recipe as well as a dip recipe.
Anyway, I hope this intrigues you enough to get in the kitchen and make the Sweet Heat Bourbon Chicken Wings for your guests! As always, if you like this recipe please be sure to Pin or Yum this recipe to save it to your recipe archives. And please share this with your friends and family using the share buttons at the top, side, or bottom of this post. I'd LOVE to see your game day pictures so please tag me in them on social media. And if you aren't following me already what are you doing with your life?! LOL JK Here are my links so we can stay in touch outside of the blog: Bloglovin',Facebook, Instagram, Twitter and Snapchat to stay up-to-date. Also, please subscribe to my YouTube channel because I will be adding more recipe and chat videos!
Pin me!
Sweet Heat Bourbon Chicken Wings
Cuisine:
American, Chicken
Ingredients
Chicken Wings:
2

pounds

chicken wings

2

tablespoons

aluminum-free baking powder

1

teaspoon

organic granulated garlic

1

teaspoon

black pepper

1/2

teaspoon

sea salt

1/2

teaspoon

onion powder

1/2

teaspoon

cayenne pepper
Sweet Heat Bourbon Glaze:
1/4

cup

gochujang

1/4

cup

organic raw honey + 2 tablespoons

1/4

cup

bourbon

plus additional splash at the end of cooking

1

tablespoon

organic tamari

soy sauce

1

teaspoon

rice wine vinegar

2

cloves

garlic

minced

1/2

teaspoon

organic ground ginger

1/4

teaspoon

smoked paprika

1/8-1/4

teaspoon

cayenne pepper
Instructions
Directions:
Preheat oven to 425℉. Place a baking/cooling rack on a baking sheet and set aside. Pat dry chicken wings.

In a large bowl, add patted dry chicken. In a small bowl, whisk together the baking powder and all of the seasonings. Sprinkle the seasoned baking powder mixture over the chicken wings and toss gently to ensure that each chicken wing is fully coated.

Place the coated chicken wings onto the baking/cooling rack set on top of the baking sheet. Make sure the chicken wings do not touch each other. Bake the chicken wings for 20 minutes. After 20 minutes, remove the baking sheet from the oven and flip the chicken wings over, bake for an additional 20 minutes. Lastly, remove the baking sheet from the oven once more and flip the chicken wings over and bake for an additional 10-12 minutes, or until the chicken is crispy.

Meanwhile, cook the Sweet Heat Bourbon Glaze by adding all of the ingredients to a small saucepan. Cook the sauce over medium heat for about 10-15 minutes. You want the sauce to reduce down a little bit to become thicker and look like a glaze. During the last minute of cooking, add a splash of bourbon.

Remove the baking sheet from the oven and allow them to cool on the baking rack for a few minutes.

Place the chicken wings in a large clean bowl and then toss the chicken wings in the warm Sweet Heat Bourbon Glaze.

To serve, garnish the chicken wings with sliced green onions, if desired.