"Let's get loud. Let's get loud!" is the first lyrics that came to mind while grabbing a Gluten-Free Fried Calamari Ring to dunk gently into the Sriracha Lemon Basil Aioli. In the short video I recorded of this action, you can literally hear the coating's crunch between my fingers. You can see the video down below. Anyway, you are in for a treat when you devour these well-seasoned, crunchy yet tender Gluten-Free Fried Calamari! 😁
https://twitter.com/brittsliladvice/status/1324009793451970560
I'm not exaggerating when I say this fried calamari tastes as if it came from the finest seafood restaurant. They might actually taste even better because some restaurants don't season the fried calamari very well. It seems like some places only use salt and black pepper. With my Gluten-Free Fried Calamari, you will taste garlic and smokiness with a little bit of heat. It's not lacking on flavor at all, honey. LOL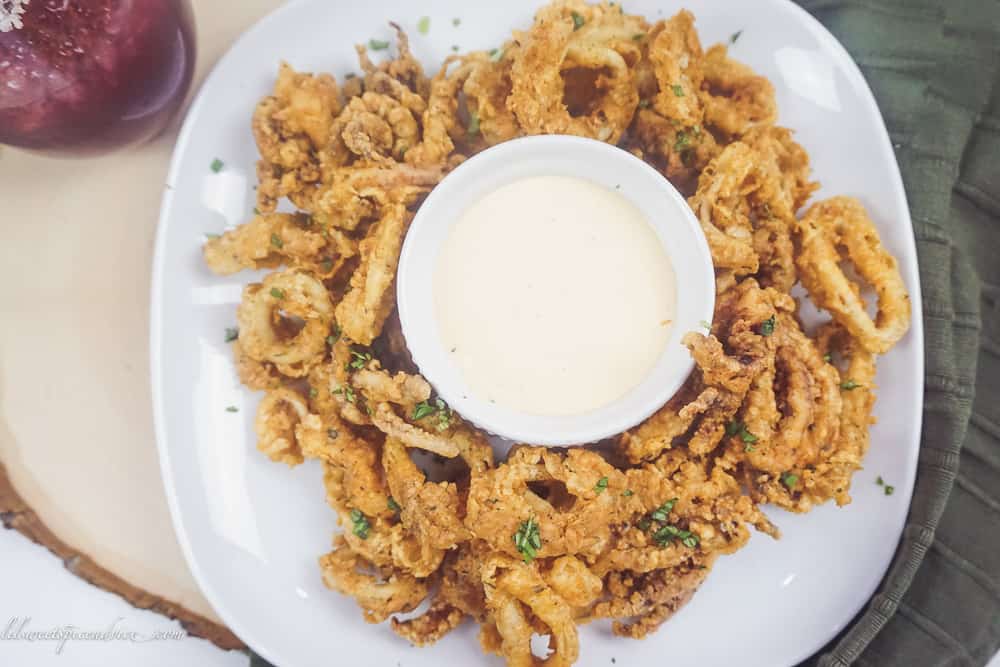 Let's talk about this Sriracha Lemon Basil Aioli for a second. This dipping sauce is multi-purpose! It would be fantastic for chicken, shrimp, and fish. TThe aioli has a slight kick from the sriracha balanced with the fresh lemon juice's acidity paired with the warmness and peppery notes of the basil. This Sriracha Lemon Basil Aioli will become a go-to staple dipping sauce for you.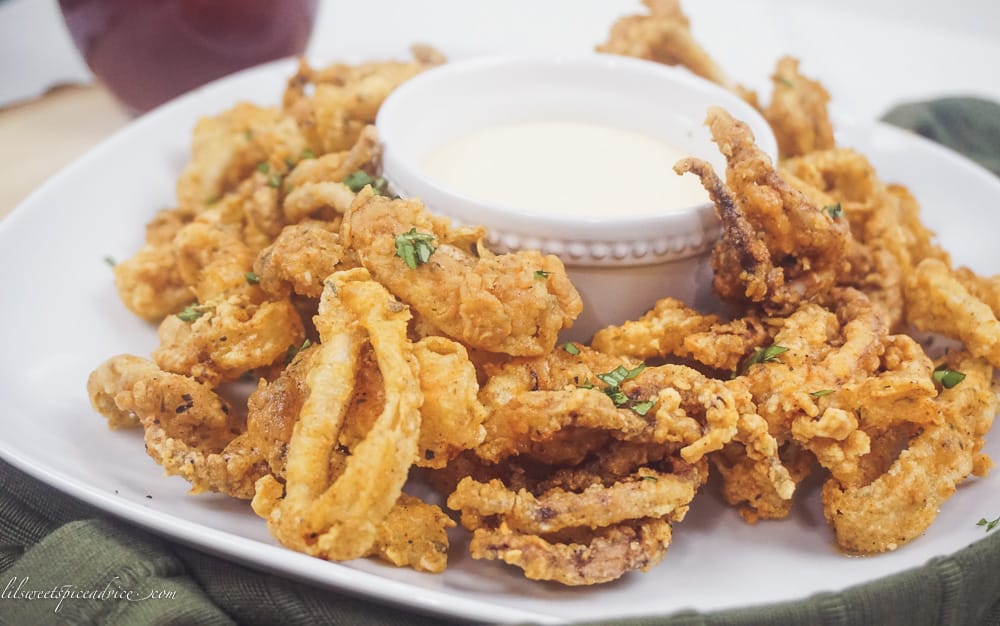 Now, back to the Gluten-Free Fried Calamari! The secret to having the most tender calamari is marinating it in some acid. You either want to marinate it in milk or in vinegar like what I did. The vinegar will act as a tenderizer so that the calamari won't be tough and rubbery after cooking it. You don't want to marinate the squid in vinegar for too long as it may dry out the squid. You only want to marinate the squid for 10 minutes, and then you will add baking soda to the mixture and allow it to sit for 3-5 minutes before rinsing off the squid. I got this tip from The GFF magazine.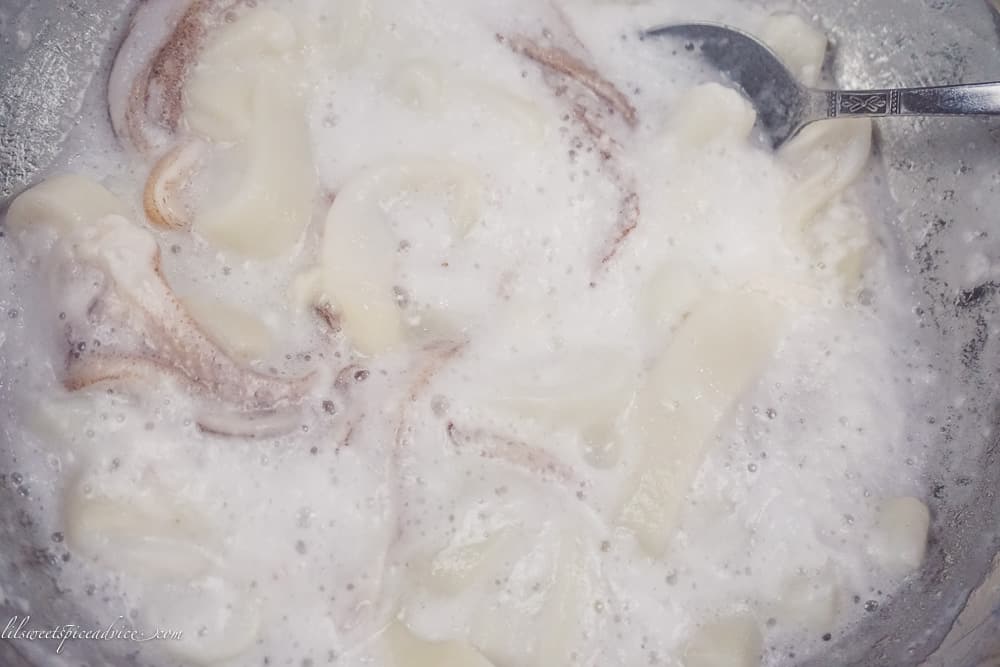 Tips for the Perfect Gluten-Free Fried Calamari
The biggest tip I have to ensure you make the most perfect Gluten-Free Fried Calamari is to marinate the squid in either milk or vinegar. That way you won't have to stress and worry about your calamari coming out dry and rubbery.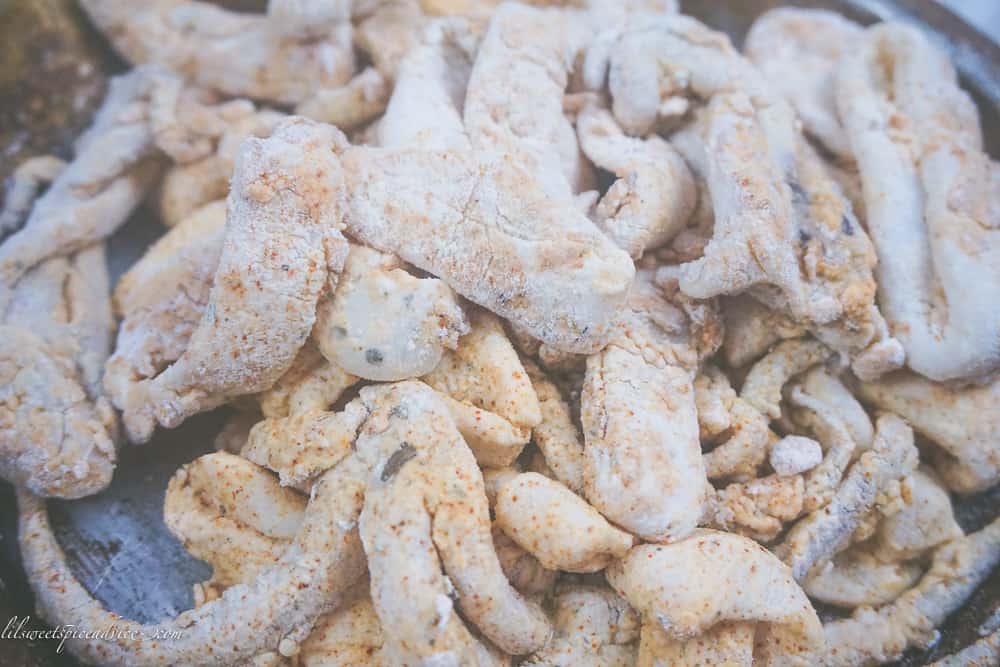 Also, be sure not to overcook the calamari. Only cook it for about 90 seconds; they will start to float when they are ready to be removed from the hot oil.
Related: Buttermilk Fried Calamari Salad with Cantaloupe Vinaigrette
Serving Ideas for Gluten-Free Fried Calamari
You can serve this calamari as an appetizer or a main course by adding a side like French fries or rice pilaf and roasted vegetables. Have fun with it and be creative.
I made tacos with the GF Fried Calamari! Heat up your tortillas in a pan or directly on the burner (that's what I did) and then spoon a little sauce onto the tortilla, gently place your fried calamari rings and tentacles on the sauce, then top your taco with cilantro and diced onions. You could also drizzle a little more sauce on top. These were some DELICIOUS tacos! I highly recommend trying it.
I also paired the tacos with a Pomegranate Margarita. I'll have a separate post for that soon.
Join Us for the Gluten-Free Fried Calamari Cooking Class on IG Live
Some of you may already know that we will cook this dish live on my IG (@brittsliladvice) this Friday, November 6th, at 7 PM CST! Be sure to have all of your ingredients ready to be prepared to get this party started. I've been enjoying these Friday night IG Live cooking and baking classes.
If you can't make this class, do not worry. I will save the IG Live to my IGTV page so that you can always access it!
Anyway, please be sure to save this recipe to your Pinterest page. Also, be sure to share this recipe with your family and friends by using the share buttons at the top, bottom, and side of this post. Let me know in the comments if you plan to cook along with us, or just let me know when you plan to try the recipe yourself!
Gluten-Free Fried Calamari with Sriracha Lemon Basil Aioli
Keyword:
Gluten-Free Fried Calamari
Ingredients
Calamari:
Organic refined coconut oil

for frying

1

pound

calamari

rings and tentacles

1/3

cup

distilled white vinegar

1

teaspoon

baking soda

1

Egg

beaten

1

tablespoon

milk

1/2

cup

Rice flour

2

tablespoons

Tapioca starch

can use cornstarch

1/2

teaspoon

Baking powder

1/4

teaspoon

Cayenne Pepper

1

teaspoon

Smoked Paprika

1

teaspoon

Onion Powder

1

teaspoon

Garlic Powder

1

teaspoon

Italian seasoning

Sea salt

to taste
Sriracha Lemon Basil Aioli:
1/4

cup

mayonnaise

2

tablespoons

sour cream

1 1/2

teaspoon

lemon juice

1

teaspoon

sriracha

1

teaspoon

fresh basil

chopped

1/4

teaspoon

garlic powder

Sea Salt

to taste

Pinch

of sugar
Instructions
Heat 3 inches of coconut oil in a cast iron skillet or your preferred pot/pan over medium heat until the oil is 360℉ on a thermometer.

In a nonreactive bowl (stainless steel or glass), mix the calamari and vinegar together. Allow the mixture to marinate for 10 minutes. Stir in the baking soda and wait until the frothing subsides; it will take about 3-5 minutes.

In the meantime, add the rice flour, tapioca starch (or cornstarch), baking powder, and seasonings to a bag or bowl. Whisk or shake all of these ingredients together.

In a bowl, whisk together the egg and milk until combined.

Drain and rinse off the calamari well. Add the calamari to the egg mixture, and then add the calamari to the flour mixture. Shake to coat, then remove the coated calamari and place it onto a dish. After you have coated all of the calamari, proceed to fry it.

Fry the calamari in batches. Stir them occasionally. Cook until the calamari begins to float and is golden brown, about 90 seconds. Remove the calamari with a skimmer or tongs, then drain the calamari on a paper towel-lined baking pan or a cooling rack-lined baking sheet.

While the calamari is still hot, sprinkle sea salt on top. Serve with the Sriracha Lemon Basil Aioli.
Sriracha Lemon Basil Aioli:
Add all of the ingredients to a small bowl and stir until combined. Adjust the salt if needed.