This Pumpkin White Hot Chocolate with Crown Royal Salted Caramel Whisky is my first post of 2018 and I am super excited to be typing this! I hope you guys have had an excellent holiday season, got everything you wanted for Christmas, cuddled up with your boo (or bae, whichever word you prefer), and brought in the new year the right way! I thoroughly enjoyed Christmas because I got this new baby I am typing this recipe post on, a MacBook Pro with the new Touch Bar! Soooo guess what that means?! I get to use these in my posts now! 😜😏
I have been on the Apple train for quite some time now with my iPhone and my iPad Air 2, but I've never owned a MacBook before. So talk about a learning curve! Geesh! I am going to get it together. Can't wait to add Final Cut Pro so I can get to editing on these videos I've had recorded for months. LOL My PC was moving WAY too slow for me to efficiently edit videos so I just figured I would wait until I got a new laptop to edit.
The other Christmas present that I am super stoked about receiving is the Instant Pot. I've already used it twice to make Hoppin' John and Ham and Bean Soup! I was thinking about sharing my Hoppin' John recipe with you guys, but most people only make it once a year (for NYE/New Year's Day) so I'll just wait until the end of the year to share my recipe. Unless you guys want it now then let me know in the comment section. Anyway, I can already tell that the Instant Pot will be my new favorite kitchen appliance! I cannot believe I can use dry beans in that thing and when they are finished in about 30 minutes they look like they have been cooking for hours!
Let me go ahead and get into the true intent of this post, the Pumpkin White Hot Chocolate. This hot chocolate is really the bomb, honestly, truly! I developed the recipe in November and fell in love. No shade to Starbucks, but I think this drink beats any hot chocolate drinks they've created over the years! And I have a lot of people that will vouch for this sentiment. For New Year's Day, I made a large pot at my cousin's gathering with about 20 or 25 people and every single one of them raved about it! Can y'all believe I was able to get a group of black people to try pumpkin?! LMAO That is a feat in itself because If you aren't well aware black people generally do not eat pumpkin, we usually stick to sweet potato treats. I happen to love pumpkin and squash and pumpkin spice!
Anyway, this luscious steamy drink is just milk (you could use non-dairy milk), premium white chocolate chips, organic cane sugar (optional), and my homemade roasted pumpkin. If you didn't roast any pumpkin during pumpkin season and freeze it like I did then feel free to use canned pumpkin or you could even use roasted butternut squash that has been puréed. (In case you missed my post on roasting pumpkin check this outpost on roasting pumpkin check this out.) Now, for the kids, you can stop here and top it with whipped cream and caramel sauce or cinnamon like I did in the picture. For the adults, you will want to grab a bottle of Crown Royal Salted Caramel Whisky and stir in a shot before topping the hot white chocolate with whipped cream and cinnamon or caramel sauce.
It tastes amazing without the Salted Caramel Whisky, but when you add it in OMG! 😍 It really takes it to another level! I promise I wouldn't steer you wrong! You've got to try this!
Gonna keep it pretty short today and get to the recipe because I do have a lot more posts to work on for you all. Have a giveaway I'm working on (more details soon to come) and I want to film a few videos and start some lifestyle posts series. I'm super stoked about this year and what all I have planned for you guys. I sure hope to connect with y'all a lot better this year because I really wouldn't get to do what I love without you guys!
Anyway, comment below what you think of this recipe and when you will be trying it! Don't forget to save this recipe by using the Pin or Yummly button and also use the share buttons at the top, side, or bottom of this post to share it with your friends and family. If you haven't already been keeping up with me on social media, then click these links to follow: Bloglovin',Facebook, Instagram, Twitter and Snapchat to stay up-to-date. Also, please subscribe to my YouTube channel because I will be adding more recipe and chat videos!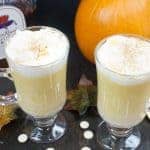 Pumpkin White Hot Chocolate with Crown Royal Salted Caramel Whisky
Ingredients
Ingredients:
1

cup

pumpkin purée *See Note

4

cups

organic milk

or non-dairy milk

1

cup

white chocolate chips

2

tbsp

organic cane sugar

optional

Pinch

salt

1

tsp

organic vanilla extract

1

tsp

pumpkin spice

1-

ounce

Crown Royal Salted Caramel Whisky per serving
Instructions
Directions:
In a large saucepan set over medium-high heat, combine all ingredients except the whiskey, if you are using it. Whisk to combine. Once the white hot chocolate is hot, serve in a mug topped with whipped cream and cinnamon or caramel sauce. If you are using the Crown Royal Salted Caramel Whisky, stir it into the mug of white hot chocolate, then top with whipped cream and cinnamon or caramel sauce.
Recipe Notes
Note: I used freshly roasted pumpkin purée that I had frozen during pumpkin season. If you didn't freeze your own pumpkin purée, then feel free to use canned pumpkin or roast butternut squash then purée it.