Happy Holidays and Happy New Year to my favorite peeps! It's been a heck of a year, and we could all use a little extra good luck to bring in the New Year. Instant Pot Hoppin' John, please do ya thang! LOL And, greens, please do ya thang and bring us some money money money for the New Year! If you aren't familiar with these New Years' traditions, don't worry, I'll explain later. Just know that these Instant Pot Hoppin' John are spicy with full-bodied flavor from the ham hock, robust chicken broth, Serrano pepper, fresh herbs, and the Holy Trinity.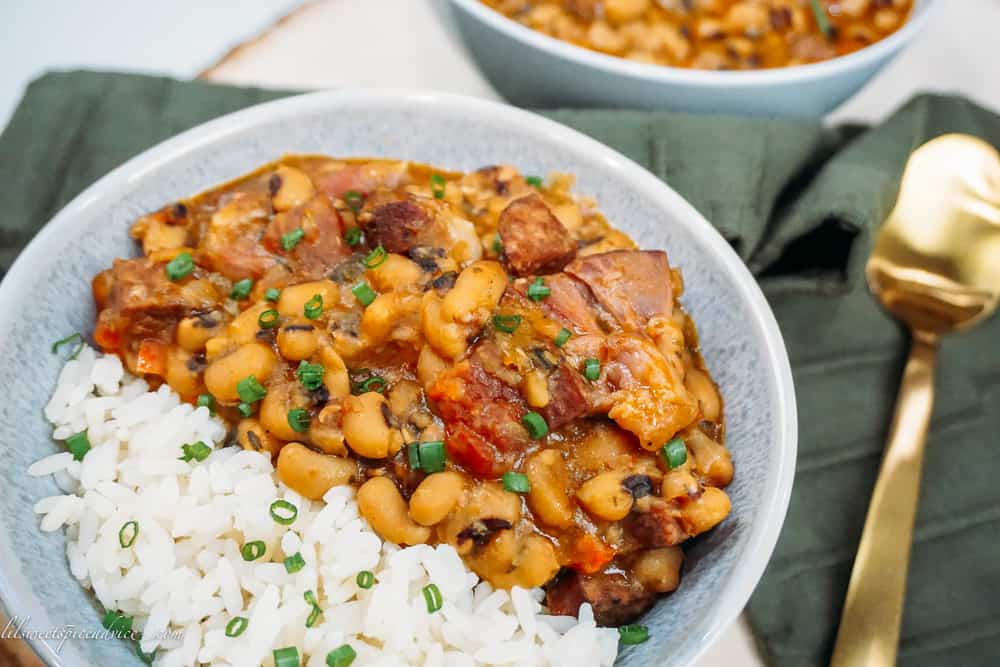 Most bloggers would probably do a recap of the year for the last post of the year, but we're going to skip that this year. 🤣 We don't have to remind each other what happened in 2020. We're going to act like my first posts of the year, the My Health Journey Goals for 2020 Part 1 & 2 posts, didn't really happen. Well, I'm just going to make them my goals for 2021 instead. Don't worry; I'll keep y'all posted on my health journey goals progress!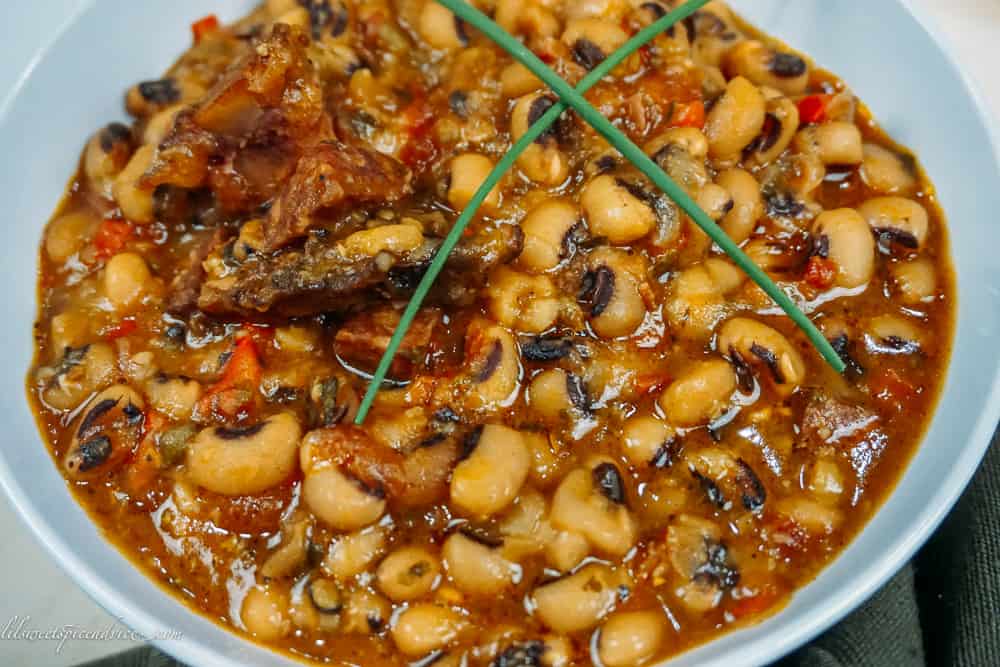 Anyway, let's all make the most of the end of the year and celebrate SURVIVING! Many of people didn't survive or are struggling to survive, and my thoughts and prayers are with them. If you feel like you didn't accomplish very much this year, please don't beat yourself up. We are all doing the best that we can.
History of Hoppin' John
Back to this Instant Pot Hoppin' John! 😋 Hoppin' John is a classic Southern dish usually eaten on New Year's Day and served with collard greens. The black-eyed peas in the Hoppin' John represent coins and luck, and the collard greens represent greenbacks or money. Tradition says that if you eat these two dishes on the first day of the year, you will have good luck and good fortune. I grew up with my mama following this tradition, and even though I don't actually believe in superstitions, I plan to continue this tradition with my family.
If you'd like to read more about the history of Hoppin' John, you should check out this article from Serious Eats that explains the actual history that most are not familiar with. The original Hoppin' John was made with one pound of bacon, one pound of peas (red peas or cowpeas, to be exact), and one pint of rice. The original recipe has evolved so much throughout the years. I don't even use bacon in my recipe. I use ham hock and sausage instead of bacon; I think they provide more depths of flavor.
Instant Pot Hoppin' John Tips
Most people cook their rice in their Hoppin' John, but I don't do that either. Learn to take creative license where ever and whenever you want! I cook my rice separately. I tend to freeze my Instant Pot Hoppin' John leftovers, and I think it's best to do so without the rice added. You can also better control the amount of rice in each serving. I generally use parboiled rice because it is NEVER mushy; the rice grains are always fluffy and not sticky.
You don't HAVE to cook this in an Instant Pot or another electric pressure cooker, you can easily cook this on the stove or in a slow cooker. The only caveat is that it will take a lot longer to cook the Hoppin' John using this method. It would probably take you about 2 hours on the stove to cook fully. Just make sure you soak the peas before cooking them. In the slow cooker, it would take about 8 hours.
The greatest thing about cooking beans in an Instant Pot or electric pressure cooker is that the high pressure and heat help break down the phytic acid so that your body will have an easier time digesting the beans. You don't even have to soak the beans. You can rinse them to remove the dirt and debris and then throw them in the pot.
Go ahead and head to the store to get all of the ingredients so you can prepare the most flavorful Hoppin' John of your life! And I'll be praying that this New Year will be full of more happiness and that you'll prosper. Let me know in the comments if Hoppin' John is a family tradition for you. Don't forget to share your finished pictures with me. They are my favorite thing to see! 😄 Be sure to save this recipe to your Pinterest boards and use the share buttons at the top, side, and bottom of this post so that you can share the recipe with your friends and family.
Instant Pot Hoppin' John
These Instant Pot Hoppin' John are not your traditional black-eyed peas. They are boldly flavored with a bit of spicy heat from Serrano pepper, red pepper flakes, fresh herbs, ham hock, sausage, veggies, and chicken broth.
Cuisine:
American, Southern
Keyword:
Instant Pot Hoppin' John
Ingredients
1

pound

dried black-eyed peas

2

tablespoons

avocado oil

1

large onion

diced

1

celery stalk and leaves

diced

3/4

red bell pepper

diced

1/4

poblano pepper

diced

1

serrano pepper

finely diced

4

garlic cloves

minced

2

dried bay leaves

1

teaspoon

fresh thyme

chopped

2

teaspoons

fresh parsley

chopped

1

teaspoon

sea salt

1

teaspoon

black pepper

1/4

teaspoon

crushed red pepper flakes

1/8

teaspoon

cayenne pepper

1/2

teaspoon

ground cumin

1

smoked ham hock

1

link sausage

diced

4

cups

chicken broth

1/2

teaspoon

sugar

10-

ounce

can diced tomatoes and chilies
Instructions
Turn the Instant Pot on by clicking the Sauté button and set it to normal temperature. Once the inner pot has heated up, add the avocado oil and start sautéing the vegetables by beginning with the onion, celery, bell pepper, and Serrano pepper. Sauté the vegetables for 4 minutes.

Add the diced sausage, ham hock, and garlic to the vegetables and cook for 3 minutes.

Add the bay leaves, thyme, parsley, seasonings, chicken broth, tomatoes and chilies, black-eyed peas, and sugar to the pot. Stir all of the ingredients. Cover the pot with the lid, set the Instant Pot to the Beans feature, and cook for 28 minutes.

After the beans have fully cooked, allow the Instant Pot to release steam for at least 30 minutes naturally.The beans will infuse with even more flavor during this resting period. After the 30 minutes have elapsed, cover the pressure release valve with a towel, and turn the valve to release all steam and pressure.

Serve the Hoppin' John with cooked rice.