If you follow me on Twitter or Snapchat (hint, hint – go follow me @Merci_Britte) you saw me making this Crispy Coconut Lime Shrimp with Tequila Lime Dipping Sauce a few weeks ago. Some of you were telling me how you couldn't wait to try this recipe and I can understand that because I can't wait to make these again. I literally fell in LOVE with these shrimp! Let me tell y'all about it!
Backstory of Crispy Coconut Lime Shrimp
So I've been craving coconut shrimp for several weeks…okay, months. LOL, I just kept saying, "Oh, I'll make some next week." So I procrastinated and procrastinated some more until I just couldn't take it anymore! The craving grew unbearable and I just had to give in, get up, and head straight to the kitchen. I didn't want to make the standard coconut shrimp with a sweet chili sauce or pineapple cream sauce. I needed an extra punch of flavor. And this is where the limes come into play! *slyly rubs hands together*
Coconut shrimp was one of my absolute favorite meals as a child! We couldn't afford to have coconut shrimp very often so it was always a special treat whenever I could eat it. My mom would cook the SeaPak coconut shrimp for me and I would feel like I had the greatest mom ever.
Now, we all know coconut and lime go together like duck breast and oranges. (Yep, I know you thought I would say peanut butter and jelly. 😉 LOL) Anyway, I knew I needed to make sure I could REALLY taste the lime! So I added lime zest to the coconut breading mixture, of course, but I added lime juice to the egg mixture as well! Yes, the lime flavor came through perfectly!
I looked online after I made these crispy coconut lime shrimp to see if anyone else had a recipe for it. Nope! The only coconut lime shrimp recipes I found were for coconut curry lime shrimp so that's why my recipe has been dubbed crispy coconut lime shrimp!
Can we take a few seconds to talk about the Tequila Lime Dipping Sauce?! HONEY! PLEASE do not make the crispy coconut lime shrimp without making this sauce! You'd basically be committing a cardinal sin if you don't make the sauce. It's that good. I started with plain Greek yogurt for a thick base and then I added some tequila, freshly squeezed lime juice, lime zest, raw honey, and a dash of sea salt. Super simple for anyone to make yet it's so freaking delicious! I would use this dipping sauce for fish, fritters, even those party meatballs that people love to throw in the Crock Pot. I'd take some ground turkey or chicken, season it and form it into meatballs, then cook them in the Crock Pot, and serve them with this sauce.
I couldn't eat all of the shrimp when I cooked them so I had to refrigerate the rest. The next day I just popped these babies in a 400° F oven and heated them until they were hot. They crisped back up beautifully and were just as delicious as the first day! Oh, I should also note that I did not deep fry these shrimp, I shallow fried them. Of course, I used coconut oil! You don't have to deep fry everything. There are quite a few foods that do just fine with shallow frying. I'll give you guys more recipes that use shallow frying in the near future.
As always, if you love this recipe, please share it with your family and friends by using the share buttons on the side, top, and bottom of this post. Also be sure to pin this recipe to your seafood Pinterest board. When are you planning to cook these crispy coconut shrimp? Let me know in the comment section or on social media by following me here: Bloglovin',Facebook, Instagram, Twitter and Snapchat (@merci_britte) to stay up-to-date. Also please subscribe to my YouTube channel because I will be adding more recipe and chat videos soon!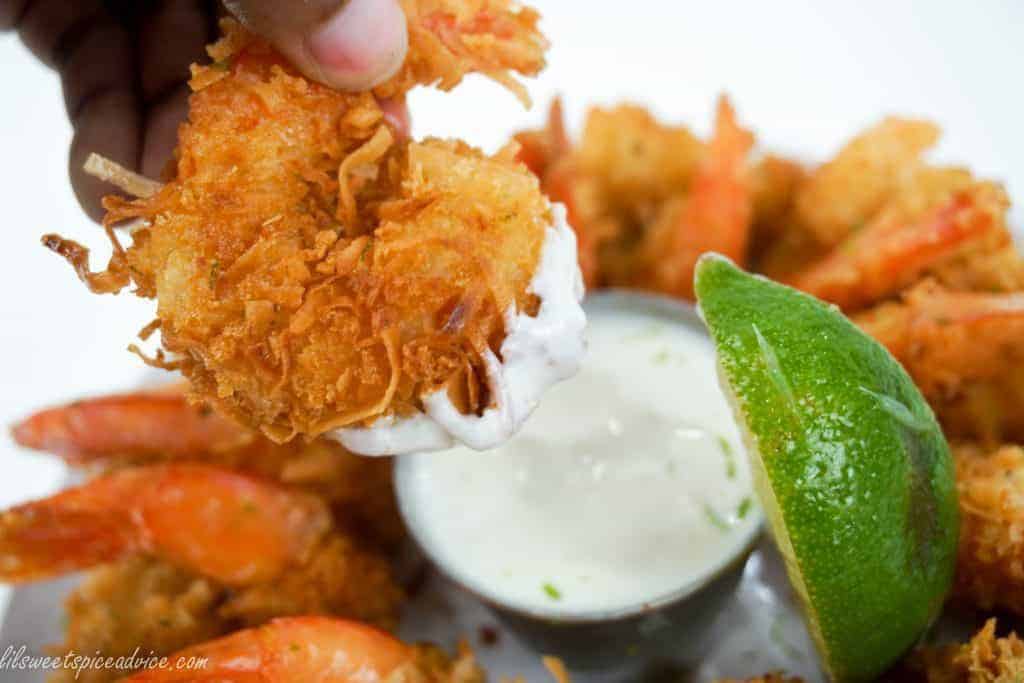 Crispy Coconut Lime Shrimp with Tequila Lime Dipping SauceCoconut Lime Shrimp
Lime juice and zest are the zip that coconut shrimp has been longing for! Super easy to make these coconut lime shrimp as well as the tequila lime dipping sauce. Don't skip the sauce! 😉
Course:
Appetizers, Main Dish
Ingredients
1

pound

jumbo peeled & deveined shrimp

1/2

cup

unbleached all-purpose flour

1

tablespoon

cornstarch

1

teaspoon

black pepper

1/2

teaspoon

cayenne

1/4

teaspoon

cumin

1/4

teaspoon

sea salt

2

large organic brown eggs

Juice of ½ lime

3/4

cup

panko bread crumbs

1

cup

unsweetened organic shredded coconut

Zest of 1 lime

Coconut oil

for frying

Tequila Lime Dipping Sauce:

1

cup

plain Greek yogurt

1

tablespoon

tequila

2

teaspoons

lime juice

2

teaspoons

raw honey

Zest of 1 lime

Dash of sea salt
Instructions
Gather 3 medium sized bowls for the breading station. In the first bowl, combine flour, cornstarch, black pepper, cayenne, cumin, and sea salt. Beat the eggs and lime juice together in the second bowl. In the third bowl, combine, panko breadcrumbs, shredded coconut, and lime zest.

Dip the shrimp into the flour mixture, then the egg mixture, and lastly, dredge the shrimp in the coconut mixture, pressing the coconut mixture gently to adhere to the shrimp. Set the coated shrimp to the side.

In a large skillet over medium heat, add about ½ an inch of coconut oil to cover the bottom of the pan. Fry the coconut shrimp in batches for about 4-6 minutes, flipping shrimp halfway through cook time.

Remove the cooked shrimp from the pan and allow to rest on a paper towel-lined plate or on a cooling rack. Sprinkle with lime zest and serve with tequila lime dipping sauce.

Tequila Lime Dipping Sauce: In a small bowl, whisk all the ingredients together. Refrigerate the sauce for at least 15 minutes prior to serving to allow the flavors to deepen. Store tightly covered in the refrigerator for 5 days.
Recipe Notes
Tips: *You can make the shrimp ahead of time and reheat them in a 400° F oven for about 6-8 minutes, or until fully heated. They refrigerate very well. I wouldn't refrigerate longer than 3 days.