Why aren't chicken burgers more popular than they are? These Poblano Lime Chicken Burgers with Roasted Garlic Mayo will have you kissing beef burgers goodbye! Okay, that MIGHT be a little dramatic b/c I'm always down for a juicy grass-fed beef burger (cooked to medium, please), but we aren't here to discuss that today. We're here to shine a light on the underdog of the burger world!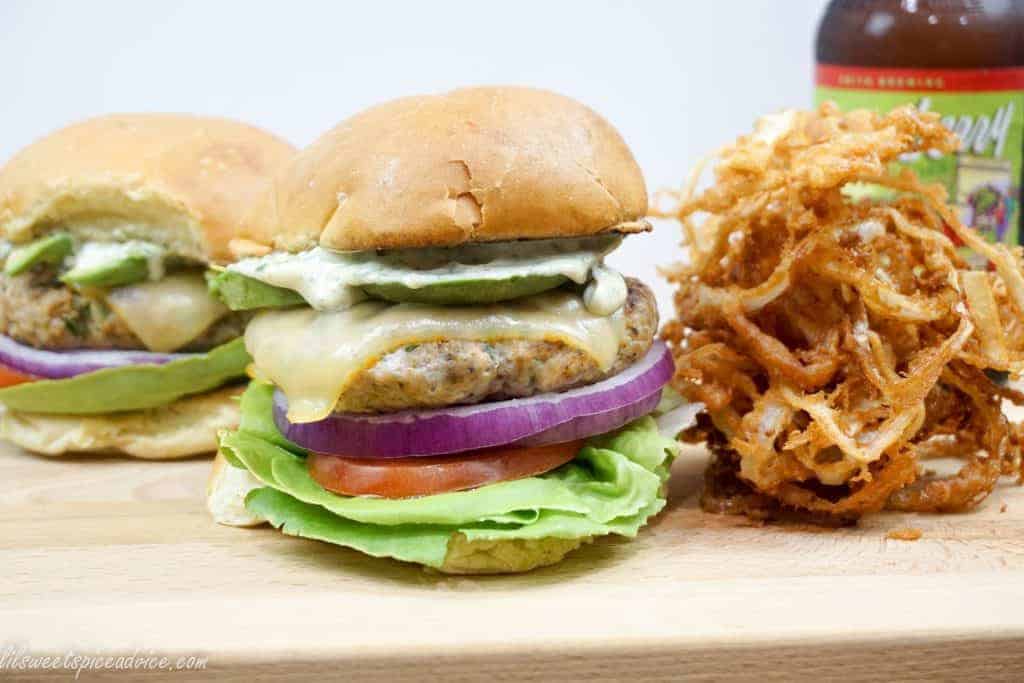 These Poblano Lime Chicken Burgers are juicy and have a little zing thanks to the lime juice and zest, a little spice and smokiness from chipotle powder, a slight crunch from the diced poblano peppers, and a little extra smokiness from smoked paprika. Then you top that bad boy with a slice (or two) of Muenster cheese, butter lettuce, vine-ripened tomato, red onion, avocado slices, and then slather the Roasted Garlic Mayo on to the toasted fresh hamburger bun.
Grill or BBQ Your Poblano Lime Chicken Burgers
The first time I made these Poblano Lime Chicken Burgers I threw them on the BBQ pit and smoked them. Oh my gawd! The smoke imparted such a great flavor that I suggest throwing these burgers on the pit for your next BBQ cookout. And the Fourth of July is right around the corner so this would make a great addition to the menu! Now for these pictures, I cooked the burgers indoors on my cast iron grill pan and they turned out wonderfully. So it's up to you how you want to cook these burgers. Now, before I began smoking the burgers I put the garlic head on the pit and made smoked garlic. Smoking the garlic instead of roasting it in the oven just took it to another level, but there are no worries if you aren't smoking the burgers on the pit then roast the garlic in the oven.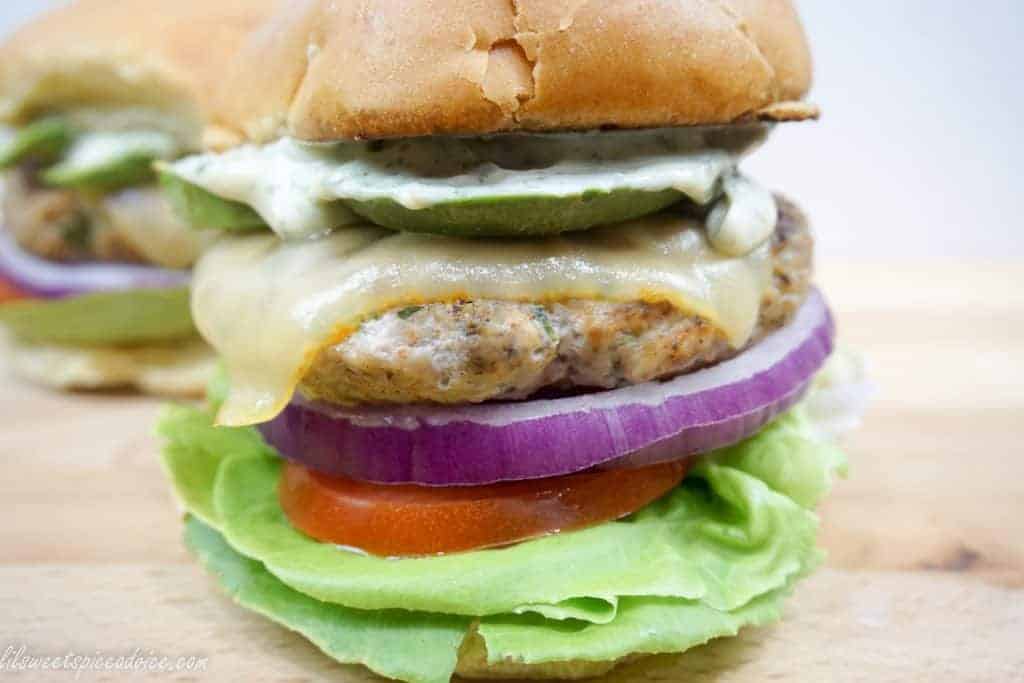 These Poblano Lime Chicken Burgers are pretty healthy for you too and that's what I love about them. I used Perdue ground chicken (no, this isn't a sponsored post) because no hormones or steroids are added to the chicken. And their chickens aren't raised in cages so that's a plus! These burgers are full of spices that are good for your health. The chipotle powder is great for blood circulation and increasing your metabolism, the cumin is great for aiding in digestion and improving immunity, etc. What I would like for my readers to do is start thinking about the health benefits of each of the ingredients you put into your dishes in order to be more mindful of eating smarter and healthier. It takes baby steps to lead a healthier life and I talked all about it here.
If y'all aren't too familiar with poblanos I wanted to tell y'all a little bit about them. Poblanos are very mild peppers so don't expect any heat from them. In all honesty, I use poblano peppers in place of regular green bell peppers in most recipes and I've been doing that for years. I think they are more flavorful than green bell peppers. The most famous dish that you have probably seen poblanos in is Chile Relleno.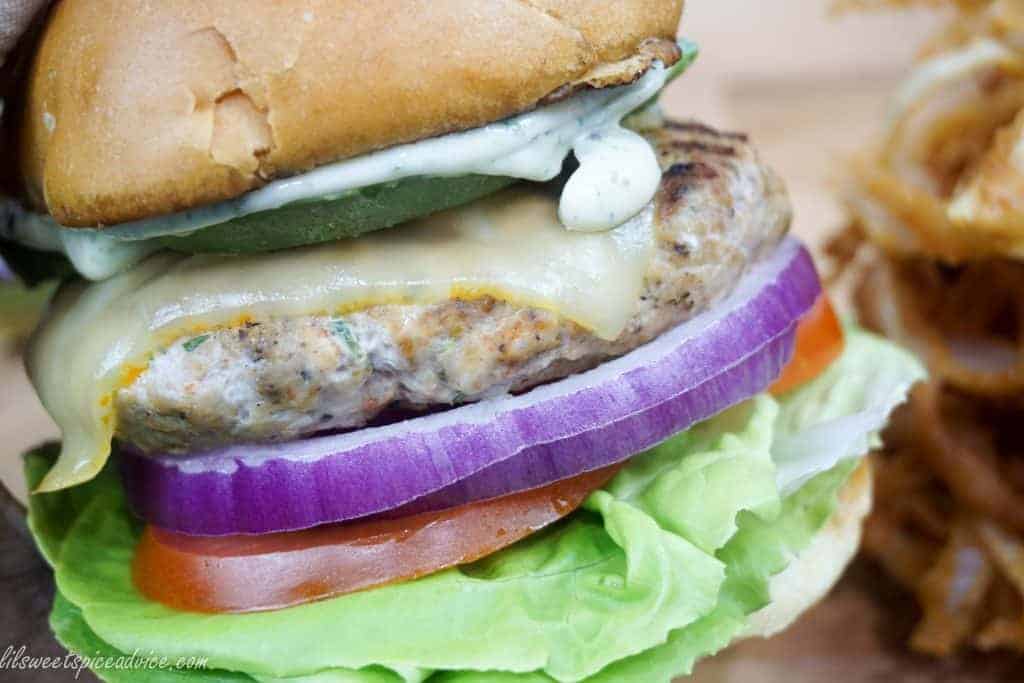 Well, I don't want to keep y'all any longer so I will let ya go! I just wanted to give y'all a flavorful recipe to try this holiday weekend. Let me know in the comment section below how you feel about chicken burgers, and if you'll be adding them to your homemade burger rotation! Please pin this on Pinterest to save it and use the share buttons on the side, top, or bottom of this post to share it with your friends on social media. Send me pictures of your 4th of July dishes on social media. Here are my links: Bloglovin',Facebook , Instagram , Twitter and Snapchat (@merci_britte) to stay up-to-date. Also please subscribe to my YouTube channel because I will be adding more recipe and chat videos soon!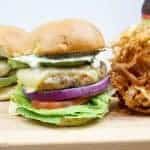 Poblano Lime Chicken Burgers with Roasted Garlic Mayo
Cuisine:
American, Burgers
Ingredients
1

pound

ground chicken

3/4

teaspoon

black pepper

1/2

teaspoon

sea salt

1/2

teaspoon

cumin

1/2

teaspoon

granulated garlic

1/2

teaspoon

onion powder

1/2

teaspoon

chipotle powder

1/2

teaspoon

harissa spice

optional

1/4

teaspoon

smoked paprika

2

tablespoons

Panko breadcrumbs

1/8

cup

finely diced poblano pepper

1/4

cup

chopped cilantro

Zest of 1 lime

2

teaspoons

lime juice

Sliced Muenster cheese
Roasted Garlic Mayo:
1/2

cup

mayo

8

roasted garlic cloves

smashed

1

teaspoon

lime juice

2

tablespoons

chopped cilantro

1/8

teaspoon

sea salt

1/8

teaspoon

black pepper
Instructions
In a mini food processor or blender, add mayo, smashed garlic, lime juice, chopped cilantro, and sea salt. Puree until completely combined. Transfer to a small bowl, cover and place it in the refrigerator to chill until ready to use.

In a medium-sized bowl, add ground chicken and the remaining ingredients. Mix together just until combined. Do not overmix. Divide the mixture into quarters and form each quarter into a patty. Do not form tight patties.

Preheat a cast iron grill pan over medium-high heat. Put a little oil in the grill pan. Cook burgers for about 4 minutes on one side and flip to cook for 3-4 minutes on the other side, or until internal temperature reaches 165°F. Add sliced Muenster cheese to burgers right before they are finished cooking.

Serve on toasted buns with butter lettuce, vine-ripened tomato slices, sliced red onion, sliced avocado, and roasted garlic mayo.
Recipe Notes
Tips: If smoking the garlic on a BBQ pit, slice the top of a garlic head off and drizzle with a little olive oil and sprinkle salt and black pepper. Wrap the garlic head in foil and smoke it for at least 1 hour or until the garlic is soft. Squeeze the garlic out of the skin to use. If using the oven, follow the same steps except put the garlic head in a 400°F oven and bake for 40 minutes or until the garlic is soft.