Convenience, who can live without it? We thrive on convenience to get us through our daily lives. We need the convenience of a search engine so we don't have to take a trip to the library in the middle of the day, we need the convenience of a car to travel from point A to point B, and we need the convenience of grabbing lunch from a fast food restaurant or a freezer. Let's think about that last one, should we really be dependent on a fast food restaurant or processed food company to nourish our bodies on a daily basis? Have we become so lazy that we'd rather fix our children a box of macaroni and cheese with hot dogs instead of taking 30 minutes to whip up a nutrient dense meal?! I understand that sometimes we don't have enough time in the day to create an elaborate meal for dinner, but you schedule time for the things that you value most. Convenience foods aren't that beneficial to your health.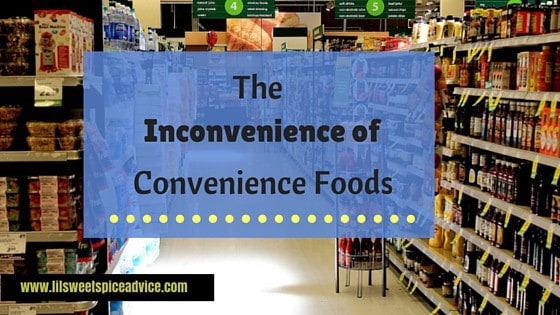 What Exactly are Convenience Foods?
Convenience foods are, by definition, "a prepackaged food that can be prepared quickly and easily; food that needs little preparation, esp. food that has been pre-prepared and preserved for long-term storage." Mmm mmm, sounds good! (read: sarcasm) Food that has been preserved for long-term storage means it contains a ton of preservatives. I think I should talk a little bit about preservatives because we all know what they are, but we have not been taught properly exactly what they do to our bodies. Preservatives can have some pretty abominable effects on the body, such as causing heart damage, causing cancer, breathing difficulties, behavioral changes, etc. Convenience foods would not be able to survive transit from the factory to the grocery store and into our homes without spoiling; therefore, food manufacturers must add preservatives to their foods. Sounds reasonable and justifiable don't you think? The problem I have with food manufacturers adding numerous additives to the food they create is that they add too much, most of the additives and preservatives are really not needed. I'm sure a lot of people would agree that we do not need dye added to our butter, we do not need fungicides and pesticides added to our milk, and we definitely don't need Polysorbate 20 added to our candy (it's a chemical that is primarily used in cosmetics like cleansers and toners).
What Can Convenience Foods Do to Our Bodies?
Even though manufacturers add preservatives in such small increments our bodies accumulate these preservatives over time and then that is when the symptoms appear. These preservatives and additives are going to accumulate unless you are eating enough fruits, and vegetables to excrete the preservatives with your bile. Chances are that if you are eating an abundance of preservative-laden convenience foods you probably aren't consuming enough fruits and vegetables to cleanse your body of these foreign substances. Using herbal cleanses will excrete all of the toxins hiding in your muscles and organs, but we will discuss those at a later time. A lot of the symptoms from additives and preservatives can mimic autoimmune diseases, so seeking additional opinions once you have been diagnosed with diseases/disorders would be a brilliant idea to be pro-active about your health.
Can You Fully Avoid Preservatives and Convenience Foods?
Honestly no, you can't avoid all preservatives and convenience foods. Preservatives are found in nearly every product your body will ever touch, even lotions and hair products. There are a few naturally occurring preservatives that manufacturers can use like optiphen, but they aren't usually used by conventional manufacturers. A lot of organic and natural manufacturers use optiphen. The goal is to limit your exposure to dangerous preservatives; you cannot fully eradicate them from your life. The same goes for convenience foods. There will come a point in time where convenience foods are needed, specifically during a time crunch. Try your best to avoid these situations so your exposure to preservatives will be limited. Try to cook as many meals from scratch as possible. I know it takes longer to cook things from scratch, but 90% of the time from scratch meals taste better than any factory-produced meals you can eat! Buy organic, natural, and grass-fed foods whenever possible.
I hope I have done a decent job sharing my thoughts on why convenience foods are inconvenient to our body and our health. What are your thoughts on convenience foods? Do you think you can limit you and your family's intake of these ready-made foods and ingredients? Let me know in the comment section below. Also, if you like this blog post, please share it with others! Follow me on my social media accounts so we can chat there as well! Links: Bloglovin',Facebook, Instagram, Twitter and Snapchat (@merci_britte) to stay up-to-date. Also please subscribe to my YouTube channel because I will be adding recipe and chat videos soon!
Sources:
Health Guidance – Dangers of Food Additives and Preservatives
Livestrong – Harmful Effects of Preservatives in Foods