You guys won't believe where the idea for this Buttermilk Fried Calamari Salad with Cantaloupe Vinaigrette came from. Just take a guess! Okay, I won't keep y'all waiting all day for the answer. LOL, This recipe came to me in a DREAM. Yes, okay that may sound bizarre to some of you guys, but I know I'm not the only person that loves food and dreams about food…heck, I even daydream about food! Please raise your virtual hand if you agree with me! Don't leave me feeling alone…please. 🙁 LOL
I've had a stressful past few days. Let me tell you guys all about it. I've been in dire need of a new bed for AGES. Like I'm at least 6 years overdue for purchasing a new bed and boy, has my body been paying for it! Some of you may know that autoimmune diseases cause quite a few sleeping problems and I'm no stranger to those problems. It's so hard for me to fall asleep, stay asleep, and I always wake up in pain. So I decided to go to the mattress store this past weekend and of course was greeted by the sales lady. Very nice and knowledgeable woman that helped me narrow my decision down…to the most expensive beds in the joint! (Ha!) She had me deciding between the Cadillac and Benz of beds. LOL Let's just say I wish I could get the Cadillac bed at the Honda bed price. This was definitely a classic example of champagne taste with a beer budget. Safe to say I did not purchase a bed this weekend. Oh well! The search continues. Labor Day sales will be starting soon so maybe I can find a great deal. I need to find a bed soon so I can continue to dream about great recipes for y'all! 🙂
Backstory of Buttermilk Fried Calamari Salad with Cantaloupe Vinaigrette
Anyway, back to this dream. I don't remember all of the details in my dream, but when I awakened I immediately grabbed my phone, opened up the Notes app and proceeded to type out what I could remember.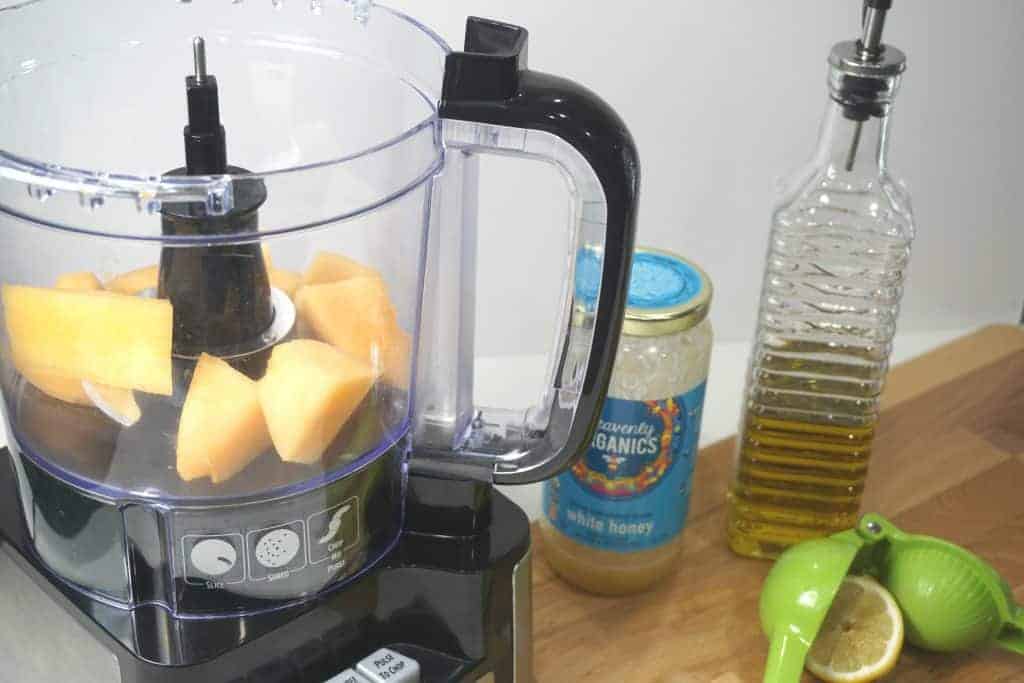 This Buttermilk Fried Calamari Salad with Cantaloupe Vinaigrette is going to become a staple in your arsenal really soon. Sliced, juicy strawberries and chopped walnuts tossed in spring mix topped with slightly spicy fried calamari that was soaked in Sriracha buttermilk then drizzled with sweet and tangy cantaloupe vinaigrette. Oh, I can hear the angels singing right now! So if the angels approve, then you know you need to give this a try.
Now, as I have previously told you guys, don't just take my recipes and follow them to the T. If you are a beginner, then yes, you should probably follow this recipe exactly. But if you are pretty confident in the kitchen go ahead and experiment. If you don't like strawberries or walnuts, use cherry tomatoes and thinly sliced zucchini for a nice crunch. Or use shrimp or chicken in place of the calamari. I know calamari can be daunting to many people, but they are super easy to cook as long as you are paying attention. The acidity in the buttermilk will tenderize the calamari as it marinates. And as long as you fry the calamari for no longer than 2 minutes you will be in great shape!
Now about the oil, I switched to frying exclusively with coconut oil about a month ago. I've read terrible objections against canola oil, vegetable oil, etc. so I felt the most comfortable with using coconut oil. I'm going to make a blog post about these oils really soon. You guys know I believe in educating yourself and I believe part of my job on this earth is to educate as many people as I can.
Speaking of education, this salad is pretty good for your health. I've told you guys the benefits of cantaloupe right here so check that out. Olive oil is one of the healthiest fats that most Americans do not consume enough of. Olive oil has great anti-inflammatory benefits as well as cardiovascular benefits (reduces oxidative stress), digestive benefits (polyphenols slow the growth of bad bacteria), bone health benefits (better levels of calcium associated with olive oil intake), and cognitive benefits (protects brain during times of imbalance). But as I always say, you won't be able to relish in any of these benefits if you don't consume them consistently. (The World's Healthiest Foods)
Well, I've talked you guys' ears off enough so I am going to shut up now. The only thing I have left to say is let me know when you will be trying this recipe by commenting down below or telling me on social media by following me here: Bloglovin',Facebook , Instagram , Twitter and Snapchat (@merci_britte) to stay up-to-date. Also please subscribe to my YouTube channel because I will be adding more recipe and chat videos soon!
Oh, if you loved this post, please be sure to share it on your favorite social media channels by clicking the buttons on the side, top, or bottom of the page! Thank you! 🙂
Shop items below similar to what I used in my pictures to have your Buttermilk Fried Calamari Salad with Cantaloupe Vinaigrette looking fab!
Buttermilk Fried Calamari Salad with Cantaloupe Vinaigrette
Delicately fried calamari soaked in a slightly spicy buttermilk marinated, then topped on a bed of spring mix, juicy strawberries, chopped walnuts and drizzled with sweet and tangy cantaloupe vinaigrette.
Ingredients
Calamari:

4

calamari tubes

sliced into ½ inch rings

3/4

cup

buttermilk

1

tablespoon

Sriracha

1/4

teaspoon

sea salt

1/4

teaspoon

black pepper

1/4

teaspoon

granulated garlic

1/4

teaspoon

cayenne

Lightly seasoned flour

sea salt, black pepper, cayenne

coconut oil

to fry

Cantaloupe vinaigrette:

1 1/2

cups

cantaloupe chunks

Juice of ½ lemon

1

tablespoon

organic raw apple cider vinegar

1

tablespoon

+ 1 teaspoon organic raw honey

1/4

cup

Scant olive oil

Pinch of sea salt & black pepper

Salad:

Spring mix

5-6

strawberries

sliced

1/4

cup

walnuts

chopped
Instructions
Buttermilk Fried Calamari: In a large sized bowl, whisk together buttermilk, Sriracha, salt, black pepper, granulated garlic, and cayenne. Toss calamari rings into buttermilk mixture and stir to coat. Allow calamari to marinate for 15-20 minutes. Lightly season flour with a sprinkle of salt, black pepper, and cayenne. Dredge calamari in the seasoned flour, tossing evenly to coat. Allow the batter to set up on the calamari by resting for 10 minutes. Preheat coconut oil to 350° F. Carefully drop the calamari into the oil and cook until golden brown, about 1-2 minutes. Remove the calamari with a slotted spoon or spider and transfer to a paper towel lined-baking sheet. Sprinkle the hot calamari with a little salt.

Cantaloupe Vinaigrette: Prepare this vinaigrette as the calamari marinates. In the bowl of a food processor or blender, add cantaloupe chunks, lemon juice, and apple cider vinegar. Process until combined and cantaloupe has liquefied. Remove lid and add raw honey, salt, and black pepper. Replace the lid and process while streaming in the olive oil. Mix for another 30-45 seconds, until thoroughly combined. Remove vinaigrette from processor or blender and transfer it to a container of your choice.

Salad: In a large bowl, add spring mix, strawberries, walnuts, and cantaloupe vinaigrette. Toss to combine. Top with fried calamari and an additional drizzle of cantaloupe vinaigrette. Serve immediately.
Recipe Notes
Notes: *A scant ¼ cup of olive oil means I didn't use an exact ¼ cup. I used a little less. *I highly recommend using a high-speed blender to liquefy the cantaloupe.