It's cherry season and I wanted to share a cherry recipe with you guys before the season ended! I absolutely love cherries, tart and sweet it makes no difference to me. In this recipe, I did use sweet, dark cherries though. It won't take you much time at all to whip up this homemade Spiced Cherry Glaze, you'll be wondering why you ever bought the jarred glaze in the grocery store!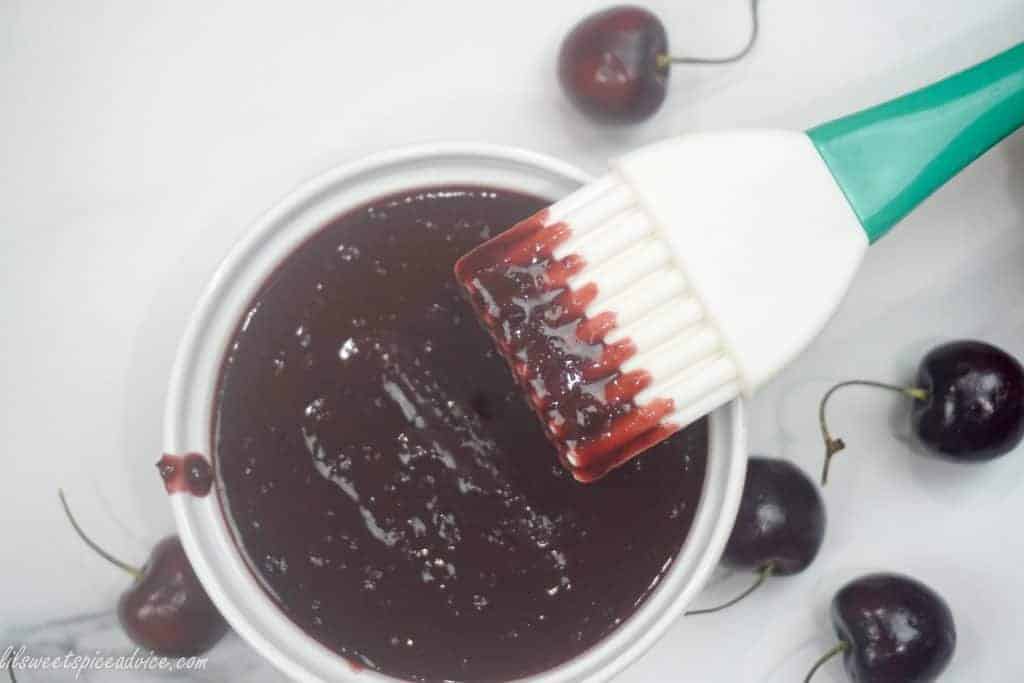 If you were to tell me you don't like cherries I would assume you probably are referring to your experience with jarred Maraschino cherries. Yuck! I've hated those bright red cherries since I was a child. I don't know what they taste like, but they sure don't taste like a juicy, ripe fresh cherry! So, PLEASE, whatever you do, do not use jarred Maraschino cherries for this recipe thinking you will save some time. Let me save y'all that frustration, please listen to me! LOL
Now, I see no problem with using frozen cherries if you can't find any fresh ones. But if you use frozen cherries you might have to use a cornstarch slurry to thicken your glaze due to the extra liquid that the frozen cherries will produce.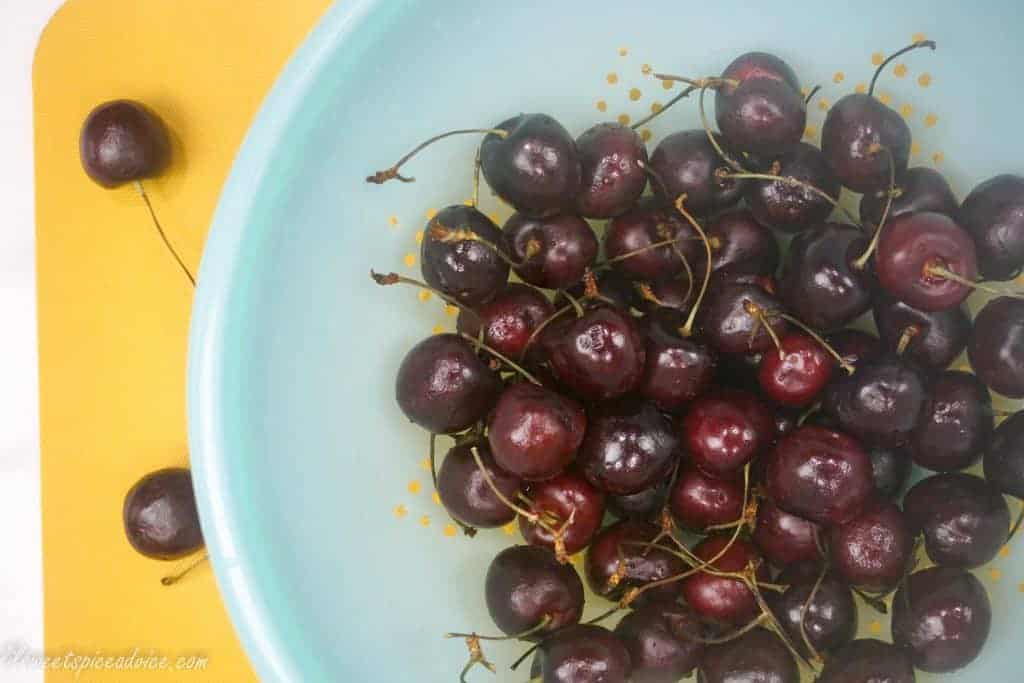 Story Behind The Spiced Cherry Glaze
I developed this Spiced Cherry Glaze recipe by playing around in my spice cabinet. I added a little bit of this and a little bit of that and actually fell in love with the flavor, so I then decided to write down which ingredients I used. The next time I made it, I wrote down the exact measurements used for each ingredient. The one ingredient that I will say I felt like rounded out the flavor is vanilla extract. That organic vanilla extract brought a layer of depth to the cherry sauce. I know what you are thinking, but vanilla extract can be used in savory foods…it just has to be used judiciously. I'd love to get my hands on some vanilla salt so I can use it in savory applications. Heck, I will probably just make some vanilla salt. I have some vanilla extract infusing away right now. It's been infusing for almost 2 months. In another month I will share a blog post explaining how and why I decided to make my own organic vanilla extract.
Anyway, you might not have every single spice I used in your cabinet and that is okay. Use what you have and then get your spice game up! LOL I'm sure you are looking at my ingredient list after you read that sentence and wondering when the heck will you use cardamom again if you were to buy it. Cardamom is one of my most cherished warming spices in my cabinet. I've been reaching for it more than I have been reaching for cinnamon. Honestly, whenever you see a recipe calling for some cinnamon go ahead and shake a little cardamom into the recipe too. You'll thank me later! P.S.: If you are located in Houston, buy cardamom from Phoenicia Specialty Foods because they have the best price I've seen.
You guys know I'm all about eating healthy so I figured I would give y'all a few health facts on cherries. Cherries are chock-full of antioxidants like anthocyanins and cyanidin which will fight the free radicals in your body and help with anti-aging. Cherries are high in potassium so they are great at regulating blood pressure and heart rate. It can also help reduce bad cholesterol levels. There are many more benefits of cherries that you can read about on Dr. Mercola's website and on Care2's website .
One tip that I will give for this Spiced Cherry Glaze recipe is to use a Quick-Pit Cherry Pitter that can pit multiple cherries at once to save you some time. I purchased mine from Sur La Table in the clearance section, but I will link this similar one right here that you can purchase from Amazon. Another tip is to use an immersion blender to purée the cherries in the pan. That immersion blender will save you the use of a lot of muscles and time. If you do not own an immersion blender, then feel free to use a potato masher or purée it in a blender.
Ideas for This Spiced Cherry Glaze
This Spiced Cherry Glaze can be used on chicken, fish, and even shrimp. I used this Spiced Cherry Glaze on Oven Baked Crispy Wings and I will be providing that recipe tomorrow. I also used this glaze on salmon. I will be providing that recipe next week. This glaze can also be used as a base for a vinaigrette for salads. During the holidays you can even use this glaze on ham! You can store this Spiced Cherry Glaze in the fridge for about a week or you can even freeze it!
Related: Spicy Cherry Glazed Chicken WIngs
Related: Easy Spiced Cherry Glazed Salmon
Don't forget to pin or Yummly this recipe to save it. Also, be sure to use the share buttons at the top, side, or bottom of this post to share the recipe with your friends and family on social media. Do you plan on making this Spiced Cherry Glaze this weekend? Let me know in the comment section below or on social media. Follow me and chat with me by using these links: Bloglovin',Facebook , Instagram , Twitter and Snapchat (@merci_britte) to stay up-to-date. Also please subscribe to my YouTube channel because I will be adding a margarita recipe video next week!
Quick & Easy Spiced Cherry Glaze
Ingredients
2

cups

organic cherries

pitted and halved

1/4

cup

organic red wine vinegar

2

tablespoons

organic raw honey

1/2

teaspoon

cayenne pepper

1/4

teaspoon

ancho chili powder

1/4

teaspoon

organic granulated garlic

1/2

teaspoon

sea salt

1/4 + 1/8

teaspoon

ground cinnamon

1/4

teaspoon

cardamom

1/4

teaspoon

organic ground ginger

1/16

teaspoon

ground nutmeg

1/2

teaspoon

organic vanilla extract

3

tablespoons

cold butter
Instructions
In a small saucepan over medium heat, add cherries, vinegar, honey, and all of the spices except for the vanilla extract and butter. Bring mixture to a boil, then reduce heat and simmer until cherries have softened and mixture has reduced, it will take about 10 minutes. After 10 minutes, use a potato masher or an immersion blender and pulverize the cherries. Alternatively, you could transfer the glaze to a blender and purée it, then transfer the glaze back to the saucepan.

After the glaze has been puréed, stir in the vanilla extract and cold butter. Remove the saucepan from the heat. The Spiced Cherry Glaze is now ready to be used.