I initially didn't plan on writing this blog post, but I decided that it needed to be shared. It's that time of year again where we celebrate the mothers in our lives. Grandmothers, godmothers, aunties, and cousins are usually showered with love in the form of gifts, time, and words. This world would be nothing without moms! And once you lose your mother it feels like your personal world is nothing without her presence. If you've lost your mother this blog post is for you. If you haven't lost your mother, or a maternal figure, yet this blog post is still for you; save it into the depths of your heart because one day you will need these words!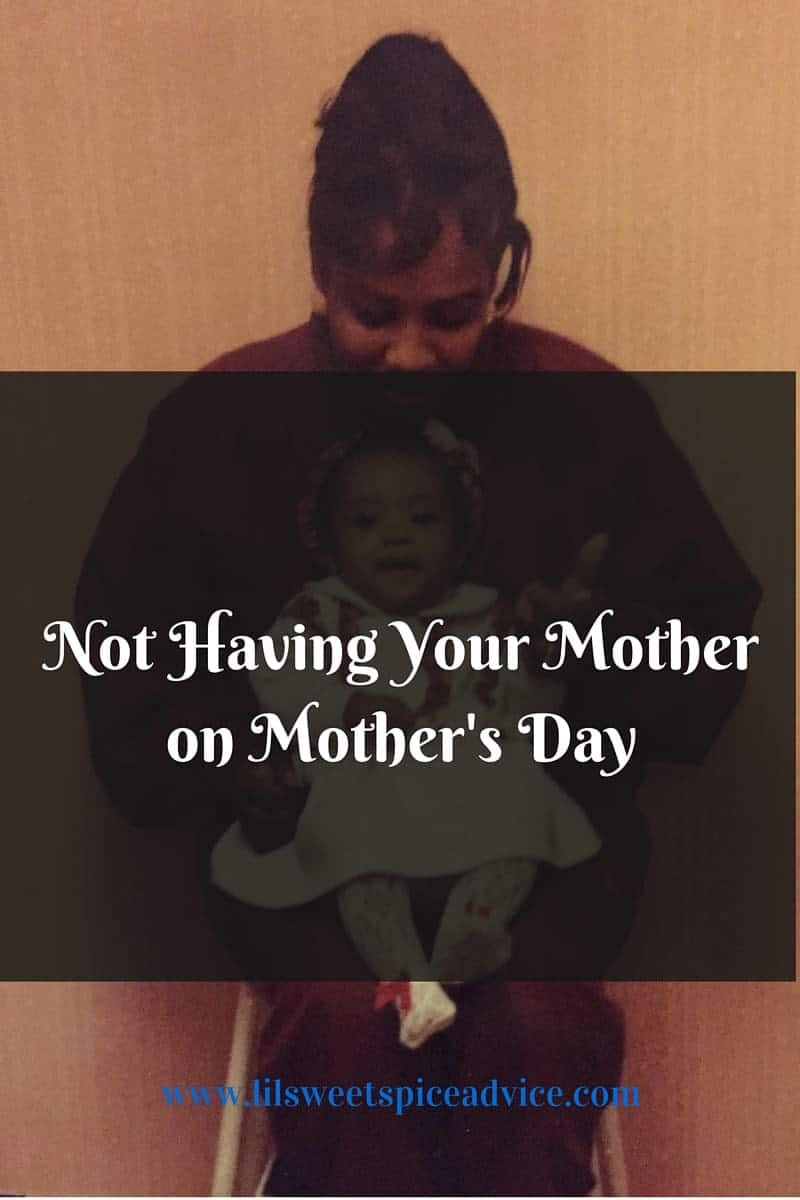 It's Okay to Cry
I don't care what anyone tells you; let those tears roll down your cheek. She is/was YOUR MOTHER, not your spouse's or your friend's. Be selfish for a few minutes and grieve. And I say this as tears well in my eyes! But guess what I'm going to do in a few minutes? I'm going to stop crying and thank God for allowing me to have my mother for as long as I did. I'm going to smile through this pain and I want you to do the same thing. Neither of our mothers would want to see us crying. So you cry and you let it all out, but in a few minutes, I need for you to uplift your spirit with the phenomenal memories that you made with her. Those memories won't ever fade, the sound of her voice will never diminish…she's just waiting for you in a place that divides us by time.
Still Plan Your Gift to Her
I think it helps to still make "plans" of what you want to give her for Mother's Day. Of course, you aren't going to go out and buy anything, but you can still think about what you would get her. You know exactly what she likes, exactly what she wants. Fantasize about giving her the gift that she deserves and let that fantasy of her receiving the gift fill your heart with felicity! The words she would use in acceptance of her gift, you know them deep down in your heart.
I'll never forget being in the hospital room with my mother on Mother's Day 2014. She had just finished another round of chemo. She apprehensively told me that she hoped she would be able to experience the next Mother's Day outside of a hospital bed. I promised her that I would do everything I could to make sure she wasn't stuck in the hospital for the next Mother's Day. Luckily, God had a plan! She was able to spend her next Mother's Day with Him, free from the constraints of her weary body. It wasn't exactly how I had hoped for her next Mother's Day to be, but at least she was free!
Keep Her Alive in Your Dreams
When all else fails don't be afraid to dream! Dreams are nothing more than an alternate reality to me. When my mother passed away I detested my dreams of her. I thought it was a painful reminder that her presence was no longer with me and that I could only be with her in my dreams. Now, I couldn't be more grateful for being able to vividly dream about my mother! We can laugh together, tell her my secrets, and discuss life in my dreams, even though I know can't truly communicate with her anymore. Her presence in my dreams is very comforting and is the greatest gift God could have let me experience after her demise.
Talk About Your Mother
You can still talk about her out loud to your family and friends on that special day! If they don't understand how you feel it's only because they haven't experienced it themselves. Tell them how much you love her, how much you miss her, how she was the greatest comedienne, how she got on your last nerve, how she was a warrior, and how she lived her life to the fullest!
They say the pain will lessen one day, I'm still not sure about that one. I believe that if you continue to grow, you will learn how to adjust to her absence, but you will never stop grieving. Holidays are tough when you are missing the people that are closest to you. I'm longing for my mom and her mother. I'm going to do everything in my power to keep their legacies alive.
Please, I'm asking you to fill this Mother's Day with as much positivity as bearable. Remember your mother at her best moments, don't focus on her absence. I'm here if you need a virtual shoulder to cry on; I'm an email away!