This post contains affiliate links which means if you click a link I will receive a tiny commission to help me run this site.
Okay, brace yourselves! Once you make these decadent, chewy, and fudgy Crio Bru chocolate cupcakes with cookies 'n cream buttercream frosting you're not going to want to try any other chocolate cupcake recipe EVER! I really don't think I'm being dramatic because this literally gave me life. LOL I'm not the only person that felt this way. Everyone that tried these cupcakes felt the same life-giving experience! One person used their teeth to scrape the cupcake liner, didn't want to miss a single crumb. The other taste testers ate two cupcakes per person and didn't want to share with others. So I'm feeling pretty confident about sharing this recipe with y'all! 🙂
Background on Crio Bru Chocolate Cupcakes with Cookies 'n Cream Buttercream Frosting
If you don't know a single thing about Crio Bru I suggest clicking here and reading my review, but basically it's roasted and ground cocoa beans that are then brewed like coffee by the customer. The reason I decided to use Crio Bru is because 1. I have formed an addiction to the stuff and 2. In a lot of chocolate cake/cupcake recipes, coffee or espresso are generally used. So I find Crio Bru to be a great substitute for coffee and it will also provide an extra depth of chocolate flavor to these cupcakes! If you want, you can just use hot water in place of the Crio Bru, but I STRONGLY suggest keeping Crio Bru in your home.
Did I mention that these cupcakes have some organic whole grains in it? Yes, these cupcakes aren't completely terrible for your health. LOL As some of you may know I own an online organic whole grains dessert shop named Piece of Paradise . I wanted to make desserts healthier for my customers so I researched how white, bleached flour and sugar affects our bodies and what could be used as better alternatives. In short, I decided to use organic white whole wheat flour, organic evaporated cane juice (raw sugar), raw honey, etc. The fiber in white whole wheat flour will lower the glycemic index of the sugar that your body is absorbing so your blood sugar will not rise as high. And you guys already know how I feel about using organic ingredients. Buy organic ingredients as often as you can. Your body will thank you! Anyway, I didn't want to make these chocolate cupcakes completely out of whole grains because I want you to slowly introduce whole grains desserts into your family's diet. Because slow and steady wins the race! Whole grains baking isn't easy and there is somewhat of a science behind it…if you don't bake whole grain baked goods properly the end result will be dry, dense and will probably have a strong taste of tannins (the aspect that causes bitterness in whole grains and tea).
I've learned from years of baking that brown sugar lends a slightly chewy texture to desserts and that's due to the molasses content in brown sugar. (Cool fact: Organic brown sugar doesn't have the molasses removed during production and then later added back like regular brown sugar does, so organic brown sugar retains moisture longer.) I wanted to find a chocolate cupcake recipe that I could adapt to my specifications. I stumbled upon a chocolate cupcake recipe from Tastes Better From Scratch by Lauren Allen and knew I'd have to give it a try!
Now for the frosting, I didn't want a normal chocolate buttercream frosting. I was craving Oreos so I decided to use Whole Foods Market's brand that are made with unbleached flour and other more natural ingredients. When I tell you guys that the cookies 'n cream frosting PERFECTLY complimented the dark chocolaty flavor in these cupcakes! OH. MY. GOODNESS. Y'all, I can't even type up this post without salivating because I want one of these cupcakes RIGHT NOW! Ugh!
Tips for These Cupcakes
I wanted to make this as simple as I could for you guys so I used a large round tip (Ateco 807) to frost my cupcakes. If you don't own a large icing tip you can fill a freezer bag with the frosting and then cut the tip of the bag to pipe your cupcakes. You just want to place the tip or bag on the center of the cupcake and apply pressure while slowly lifting your hand up and you're done!
Oh, and another thing! My cupcakes may appear a little larger than you are used to seeing because I used to sell cupcakes locally and wanted to provide my customers with bakery sized cupcakes. My liners are slightly bigger than the standard size. Here's a link to the cupcake liners I use . My bake time is a little longer because of this so I'd suggest that with your standard sized cupcake liners you should bake your cupcakes at least 3-4 minutes less than my time.
I'm really tempted to get in the kitchen right now and make some more of these cupcakes and I know you guys are going to want to go make these too so I'm going to shut up now. Let me know how much you love these cupcakes by commenting or sending me a message on social media.Here are the links to my social media accounts: Bloglovin',Facebook , Instagram , Twitter and Snapchat (@merci_britte) to stay up-to-date. Also please subscribe to my YouTube channel because I will be adding more recipe and chat videos soon! And don't forget to pin and share this recipe with your friends if you liked it!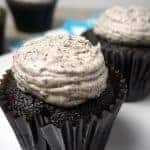 Crio Bru Chocolate Cupcakes with Cookies 'n Cream Buttercream Frosting
Crio Bru lends the perfect extra punch of chocolate to these slightly chewy and fudgy cupcakes that are topped with perfectly creamy cookies 'n cream buttercream frosting.
Ingredients
2/3

cup

unsweetened natural cocoa powder

1

teaspoon

baking soda

1

cup

hot Crio Bru

brewed

1/2

cup

butter

melted

1/3

cup

organic coconut oil

melted

1

cup

organic evaporated cane juice

3/4

cup

organic brown sugar

2

teaspoons

vanilla extract

3/4

teaspoon

sea salt

2

large organic brown eggs

2

large organic brown egg yolks

1/2

cup

heavy cream

1

cup

organic white whole wheat flour

3/4

cup

unbleached all-purpose flour

Frosting

2

sticks butter

softened

3 1/2

cups

powdered sugar

1

teaspoon

vanilla extract

2

tablespoons

heavy cream

3

tablespoons

milk

1

cup

crushed Oreos
Instructions
Cupcakes: Line muffin tins with cupcake liners (24 standard or 18 larger sized). Preheat oven to 350 degrees F.

In a large mixing bowl, add natural cocoa powder and baking soda; whisk together. Slowly whisk in the hot Crio Bru and mix until thoroughly blended. Allow the mixture to cool down for 5 minutes. In another large bowl, mix together the melted butter, melted coconut oil, brown sugar, evaporated cane juice, vanilla extract, and salt until it is thoroughly combined. Whisk in the Crio Bru mixture and heavy cream. Slowly stir the white whole wheat flour and unbleached flour just until combined. Let the mixture hydrate for 10 minutes.

Evenly distribute the cupcake batter into the cupcake liners; fill each cup 2/3 full. Bake for 18-22 minutes if using standard sized liners or 21-23 minutes for larger sized liners. Insert toothpick into the center of the cupcake, if it's clean the cupcakes are done. Remove the muffin tins from the oven and allow them to cool for a few minutes before you transfer the cupcakes to a wire rack to cool completely.

Frosting: In a large bowl or stand mixer, beat butter on medium speed for 2 minutes until smooth.

Add half of the powdered sugar and beat until smooth. Add vanilla extract and cream then beat until smooth.

Add remaining powdered sugar and beat until smooth. Add in crushed Oreos, then mix until combined. Next, add in milk a tablespoon at a time until you reached your desired consistency.

Pipe buttercream frosting onto cooled cupcakes with a large, round Ateco tip 807 or a freezer bag with the tip cut off.