Hey, y'all! I know you have been patiently waiting since this past weekend for me to post this Baked Chicken Sausage Mac & Cheese recipe that I posted on Snapchat and Twitter. In fact, you actually told me that you could wait for me to post the recipe as long as I post the recipe. I was honestly not planning to share the recipe anytime soon. LMAO. But ask and you shall receive. I always want to make sure I am giving you what you want. I honestly need to do a better job of asking what recipes you guys would like to see on the blog. So go ahead and start sending me requests via social media, the comment section on this blog, or by emailing me.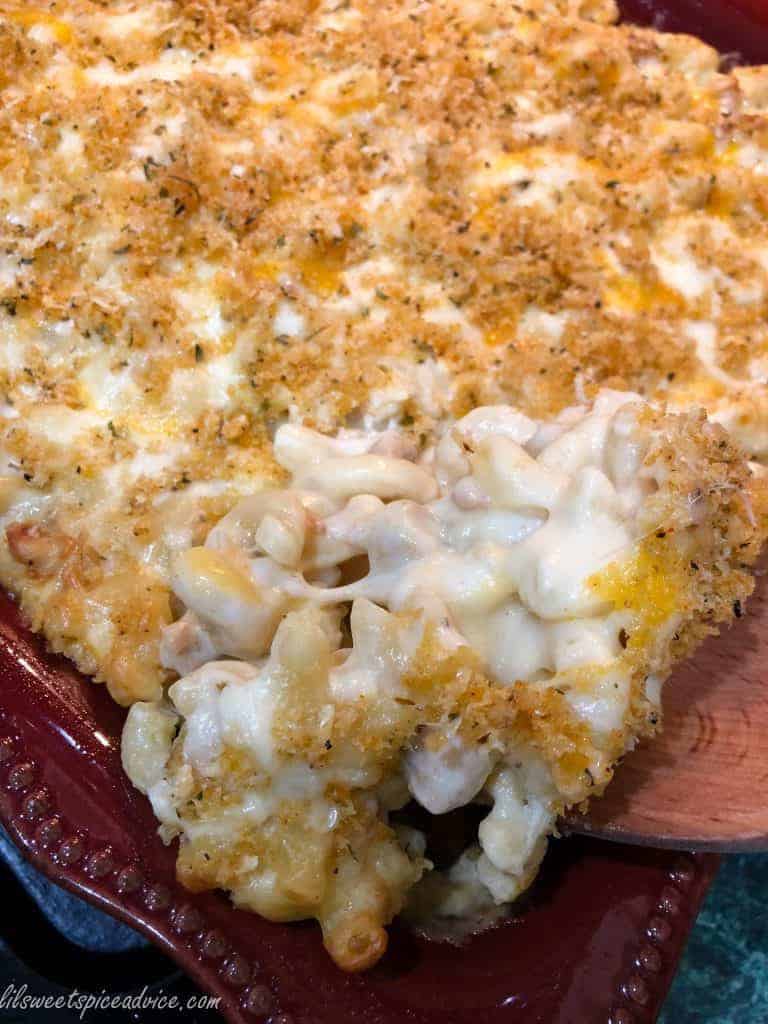 Because I wasn't expecting to share the recipe quite just yet, my pictures are from my cell phone. I didn't do any photo staging or anything to create the best pictures I could. So the food really just speaks for itself in these pictures. Anyway, I am going to delve into how to make the most perfect creamiest and cheesiest mac & cheese ever. Okay, I'm pretty sure some grandmas and chefs out there might beg to differ, but they just haven't tasted this Baked Chicken Sausage Mac & Cheese!
So this mac & cheese was supposed to be made for Thanksgiving, but I was so tired and didn't feel like making mac & cheese. I had baked a few Sweet Potato Cinnamon Streusel Bundt Cakes , made my homemade green bean casserole (which I didn't get the chance to post the recipe for in time for Thanksgiving, but it will be up in time for Christmas), made Texas Roadhouse rolls with cinnamon honey butter, and also made some homemade cranberry sauce. I decided to hold off and make the macaroni and cheese on Saturday; since I didn't feel like making anything else to go with it, I decided to add some Spicy Parmesan Chicken Sausage from Sprouts Farmers Market . I would've added some shrimp as well, but didn't have any. *deep sigh* So feel free to add some shrimp to this Baked Chicken Sausage Mac & Cheese (but use raw shrimp so it won't overcook when it's baked). Also feel free to add some sundried tomatoes, some sautéed bell peppers and onions would be nice too.
Tips for this Baked Chicken Sausage Mac & Cheese and Making the BEST Mac & Cheese Ever
First things first, do NOT use pre-shredded cheese when you make macaroni and cheese because the anti-caking agents that manufacturers toss the shredded cheese in will affect the quality of your Mornay sauce, meaning it will affect the way it thickens and melts. (Mornay sauce is basically béchamel sauce with cheese added…aka the glorious, velvety cheese sauce that makes mac & cheese so tasty!) So purchase blocks of cheese and grate them yourself by using a hand grater or a food processor. For this recipe, I used my food processor because that's a lot of cheese to grate! LOL
Picking the right pasta is what will make or break your mac & cheese. Stick to elbow macaroni or cavatappi and stay away from shells, bow-ties, and fettuccine or linguine. The ridges on cavatappi pasta allow the rich cheese sauce to grab hold and stick for ultimate eating pleasure.
The next important thing is to use warm milk to make the béchamel sauce. It's easier to incorporate warm milk into the roux to prevent lumps, in my experience. If you read up on béchamel making, you will discover that a lot of chefs say to use hot liquid with cold roux or cold (or cool) liquid with hot roux. The key to lump-free béchamel is to incorporate the milk slowly. I ladle the milk into the roux while whisking, after a few ladles of milk you can slowly stream the milk into the roux while whisking and voila, no lumps. But if you do run into some lumps whisk them out or use an immersion blender. The traditional béchamel uses milk that has been steeped with an onion pierced with a bay leaf and a clove. I didn't feel like "wasting" a whole onion so I opted to use onion powder in the seasoning mix and just steeped a bay leaf and clove in the milk. So do whatever tickles your fancy!
I used fish sauce in this recipe. If you don't have any don't worry about using it, use Worcestershire sauce instead because that's typically what is used in Cheddar or Mornay sauces, but I didn't have any Worcestershire sauce so I figured I could add some depth and umami flavor with fish sauce and it worked perfectly! Use GOOD quality fish sauce, this is my favorite brand .
Lastly, incorporate the cheeses into the béchamel while the pot is OFF the stove. You do not want to add the cheese to the sauce as it is sitting over a flame because it will separate and become oily. We do NOT want that. As long as the cheese is grated and not cubed it will have no problem melting into the sauce.
Okay, I believe these tips are going to get the perfect baked macaroni and cheese on your table in no time! I want you guys to send me some pictures on social media of your interpretation of my recipe. So if you aren't following me already then go ahead and click on these links to do so: Bloglovin',Facebook , Instagram , Twitter and Snapchat to stay up-to-date. Also, please subscribe to my YouTube channel because I will be adding more recipe and chat videos! Don't forget to Pin or Yum this recipe to save it for later and use the share buttons at the top, side, or bottom of this post to share it with your friends and family.
Pin Me!
Baked Chicken Sausage Mac & Cheese
Ingredients
1

pound

Spicy Chicken Parmesan Sausage

or any chicken sausage, cooked and crumbled

1

pound

dried elbow macaroni or cavatappi pasta

Sea salt

6

tablespoons

butter

½

cup

organic unbleached flour

5

cups

organic whole milk

1

bay leaf

1

clove

Few dashes of fish sauce

(or Worcestershire sauce)

1 ½

teaspoons

dry mustard

1

teaspoon

salt

½

teaspoon

black pepper

½

teaspoon

granulated garlic

½

teaspoon

onion powder

¼

teaspoon

cayenne

¼

teaspoon

nutmeg

8

ounces

sharp cheddar cheese

grated

4

ounces

Monterrey jack cheese

grated

4

ounces

low-moisture whole milk mozzarella cheese

grated

4

ounces

pepper jack cheese

grated

4

ounces

fontina cheese

grated
Panko Crumb Topping:
¼

cup

panko crumbs

¼

cup

Parmesan cheese

grated

Dash cayenne

Dash smoked paprika

Dash Italian seasoning

1

tablespoon

butter

melted
Instructions
Preheat the oven to 350°F. Grease a 9x13 casserole dish or baking dish and set aside.

Bring a large pot of water to a boil. Salt the water liberally. Boil the pasta until they are al dente, about 6 minutes. Drain, and rinse the pasta with cool water and set aside.

Combine all of the shredded cheese together and separate it into two bowls. About 1 ½ cups of the cheese will be layered between the pasta so set that portion aside.

In a medium-sized saucepan, combine milk, bay leaf, and clove. Allow the mixture to become steamy, do not boil.

In a large pot, melt the butter over medium heat. Once the butter has melted, add the unbleached flour and whisk it into the butter. Cook the roux for about 2 minutes to remove the raw flour taste, you do not want the roux to darken. Continue whisking.

Remove the bay leaf and clove from the milk and discard. Slowly ladle in the warm milk into the roux while constantly whisking. After a few ladles go ahead and slowly stream the milk into the roux, whisking constantly to prevent lumps. If lumps do form you can use an immersion blender to remove them.

Season the béchamel with the dashes of fish sauce (or Worcestershire sauce) and the seasonings. Simmer the béchamel sauce for at least 10 minutes, until the starchy flavor of the flour has been cooked out and the sauce has thickened to coat the back of a wooden spoon. Be sure to stir frequently.

Remove the pot from the burner and stir in the shredded cheeses. Taste the cheese sauce and adjust the salt and seasoning if necessary.

Stir the cooked pasta into the cheese sauce and add the crumbled chicken sausage. Stir until the pasta and sausage are fully coated with the cheese sauce.

Layer half of the pasta into the prepared baking dish and top it with half of the reserved shredded cheese. Spread the rest of the pasta on top of the shredded cheese. Sprinkle the remainder of the cheese on top of the macaroni.

In a small bowl, combine the panko crumbs, Parmesan, seasonings, and melted butter. Sprinkle the panko over the top layer of cheese. Bake the mac & cheese uncovered for 30 minutes or until the top is browned and bubbly. Allow it to cool for at least 5-10 minutes before serving.